Manufacturer of electronic scales in the industry
.
.
.
.
SCALE INDUSTRIAL SEG - NUMBER ONE IN THE WORLD
The company has over 40 years experience in manufacturing and installation of:
- Belt Scales
- Mass Flow Meters
- Weigh Feeders
- The system of multi-component mixing
Network of distributors and representatives worldwide with team of experienced engineers trained pharmacist.
All components and products are manufactured in Sweden, meet European standards.
Belt Scales:
* Easy installation, does not affect the nature of the conveyor
* Up to 12 000 tonnes/h
* Accuracy is less than 1%
* Design durable, no moving parts to help low maintenance and long-term use of time
* Design standardization, modularity,
* Patent OIML / MID, R50 Class 0.5, 1 and 2
Mass Flow Meters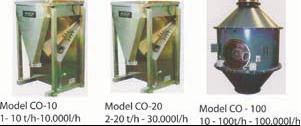 * Simple Installation
* Up to 100 tonnes/h or 100.000 lit/h
* Accuracy is less than 0,5%
* Dust
* Low maintenance
* Patent OIML: sending
Weigh Feeders



* Unique design, belt tensioners extremely low - for high accuracy




* Up to 10 tonnes / h




* Accuracy is lower than 0.1%




* Easy cleaning and maintenance




* Patent OIML / MID R50: Class 0.5, 1and 2




About distributors:




Vietnam AITIC join stock company ( AITIC.,JSC )




Distributors in Viet Nam of SEG Instrument AB




Founded in 2006, with over 5 years experience in the field of supply, installation and maintenance measurement system controls for industrial automation.




AITIC.JSC partner of many leading electronics companies worldwide as Honeywell. S-E-G, Walkvin ...




With a team of young engineers working in the dynamic environment of international management standards we are committed to giving you services in place but with global quality.




Here are a few pictures of the production equipment of the SEG






AITIC., JSC